From the bottom of my heart, I thank you for your trust and including me in on your pregnancy, birth and beyond. Its my pleasure to be able to soothe, support and spread good energy to you – both on the massage table, in the rebozo shawl and in any room you choose to birth your baby.
You are Amazing!
"At the same time as the men won the World Cup in handball on Sunday night, 31.01.21, I finally pushed my little love out into the world after 38 hours of world championships.
With only 2 hours of sleep and without food, a slow opening process started despite 3 contractions every 10 min. The public midwife quickly talked about moving from home to hospital, her shift ended and I was left alone with my husband and my mother.
I knew Doula Linnea and had received rebozo and aromatouch from her in the past. I had not planned for her to be at my birth, but when the pain intensified, I called for help, and Linnea stood there a short time after and stayed by my side. Despite unreasonable conditions without preparation, Linnea rescued both my helpers and the new midwife, who arrived 4 hours later.
Linnea's hands-on skills, presence and calmness contributed partly to me never becoming insecure, partly to me being able to lift myself through the pain and find primordial forces for dancing, crawling and Spinning Babies maneuver in the last hour, before we had to admit that medical pain relief and hospital was needed, because my little girl was lying crooked. Linnea watched over the involvement of my helpers and gently reminded them of small but important things, in the heat of the moment, such as taking pictures. And she believed in me to a degree, where the transfer did not become an annoyance, but precisely what was right at that moment, because everything else had been tried.
The difficult birth, as well as a bad match with the last and 5th midwife, meant that I had to process the experience over time. I do not know what I would have done without Linnea's help that night – And I know that her presence made me able to see my birth experience with gentle, loving eyes and humor, and over time, become a strengthening narrative of my perseverance and power.
Linnea – I am eternally grateful to you and happy that our little girl's doulamama, will be part of her life. For now, I think she will be an only child, but I have no doubt – that should I have the courage for another World Cup baby, then you are hired in advance.
Thank you, thank you, thank you "  – Celina G.
"Doula Mama Linnea was the alpha omega in my pregnancy and for my birth! It was my first pregnancy and our first child.
During the pregnancy I got rebozo, acupressure and a WONDERFUL pregnancy massage.
Rebozo is great for the heavy body! I enjoyed it every time she came to my house, with her magical scarf and lovely oils.
For childbirth, she was a huge support. Both for me and for my partner. She helped make sure we got the home birth we dreamed of. My boyfriend a huge support, throughout the birth. And because we were allowed to stay at home and because we felt so comfortable with Linnea, the birth went fast and was just as we had wanted. She knew us and knew what we wanted, and could therefore talk to the midwife and thus give us space to disappear into our own space of birth. I am simply so happy that I chose to have Linnea with me during the pregnancy and for the birth. I felt much more confident throughout the process! Thank you, thank you, thank you.
Linnea was our "icing on the cake" during my pregnancy. I was so lucky to have rebozo and birth preparation talks with Doula Mama Linnea at the end of my pregnancy.
Linnea created heart space and calm at the end of my pregnancy. Linnea brought wonderful oils and calm music to during the rebozo massages. She was also so sweet to teach my husband teaches acupressure and rebozo for our birth.
Linnea managed to get us ready for the birth, which went beyond all expectations. She asked the right questions and there was never any right or wrong answer! We were better prepared for the birth, and it became OUR birth.
Linnea is amazing and every pregnant woman owes herself a course with her!
"Just the ultimate help and care during pregnancy. Linnea knows exactly how to both give advice as well as how to make your rest in your pregnant body
I highly highly recommend".
"I am not pregnant (but have been twice) and I am constantly struggling with tension in the abdomen and in the psoas muscle, because I have inflammation in the rectum, which constantly goes up and down. Therefore, I contacted Linnea, after I had had it extra bad for a few days and to that extent needed relaxation and self-care. I got the most beautiful Rebozo massage that really made my body let go. I could feel it on the body's tensions and on the mood afterwards. Linnea is present and calm, and gives a big part of herself when giving a treatment. This is definitely not the last time I need to be helped to relax." 
With Doula Mama Linnea, you get a rare presence. The treatments that are adjusted according to your needs.
I have had the pleasure of 2 x rebozo massage and 1 pregnancy massage. A combination that can definitely be recommended. I felt relief in the sore joints and muscles around the pelvis. And the tired feet and lower legs felt a few kilos lighter after the treatment.
Pure relaxation. Pure well-being.
Something I wish for all pregnant mamas.
I had Linnea throughout my pregnancy for Rebozo and pelvic balancing. Simply so amazing and wonderful. I had pelvic discharge in my last pregnancy, and now she has REALLY made a big difference for me this time around. From the bottom of my heart, thank you.
recommendation from Emily Salomon
"The most herbal and original of the treatments I have tried. And highly recommended. I visited Linnea twice at the end of my pregnancy. The first time for a rebozo massage, which made my heavy body feel lighter in the summer heat. My second rebozo massage, with acupressure and aromatherapy, was a week before I gave birth. Both were a hit and I am so impressed by how soothing rebozo, an ancient Mexican massage technique, is, and how it stretches and lifts the body with the help of a scarf. A Really nice way to feel light, almost weightless even in a highly pregnant body. Linnea also taught me exercises I could do at home (or for the birth) with my partner. "
You can read the full blog here:

recommendation from Simone Tajmer
I visited Simone Tajmer – influencer & Youtuber, a couple of times. She recievied rebozo and "get labor going" treatment ♥
recommendation from lovely Lisbeth Østergaard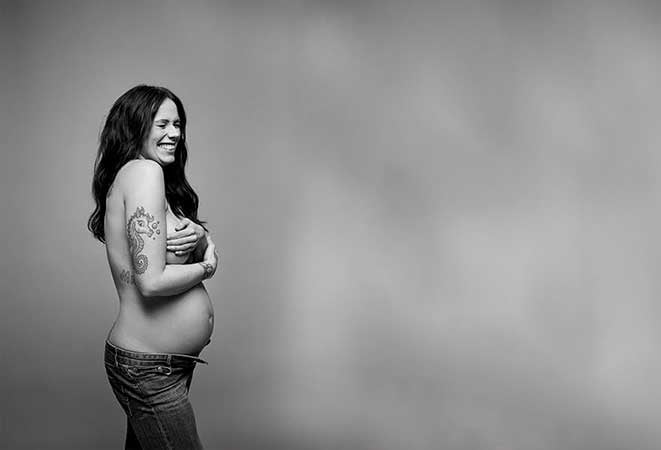 Photo used with permission from Lisbeth Østergaard. Photo by: Mikkel Tjellesen for magasinet Gravid
"I love Mama doula Linnea. She made me fell safe and ready for birth. I so loved rebozo for my heavy body, and I always looked forward to her visits. She knows her stuff and made me relax and fell strong at the same time. 
A big recommendation from me!"
Article – Bryggebladet 7. feb. 2019